On-Site-Recruitment -TESLA
JOIN THE TESLA TEAM AND HELP US BUILD A BETTER FUTURE!
Are you looking to join a company that is doing something to change the world? Are you looking to challenge yourself every day to see what you can accomplish? Are you looking to set yourself up for success? Look no further!
Tesla is designing and manufacturing a complete energy and transportation ecosystem that is fully integrated. Tesla here in the Bay Area drives the manufacturing of affordable products that work together to amplify their impact, leading to the greatest environmental benefit possible. We invite you to our private virtual informational session to join our mission to Accelerate the World's Transition to Sustainable Energy.
If you're interested in being part of the team scan the QR code and it will directly take you to our application! Once you complete the application a recruiter will reach out to you to provide you with additional information!
We are excited to have join our team to build a career with Tesla and to be part of greatness!
SCAN THE QR CODE TO REGISTER FOR THE EVENT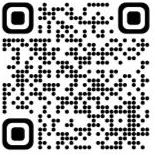 CLICK ON THE REGISTER HERE BUTTON.
For more details contact AJCC Concord at 925-671-4500